---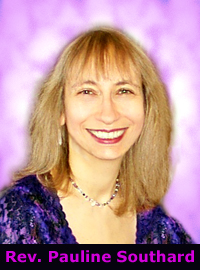 Welcome to my Internet space. My name is Reverend Pauline Southard. Following my heart has led me to become an astrologer, tarot reader, psychic, Medium, Reiki Master, healer and teacher. Teaching my students psychic development and energy healing is a wonderfully rewarding part of the work I do. Health challenges many years ago inspired me to create "The Mind/Body Healing Connection Program" and my unique "Holistic Preparation for Surgery Program." Assisting others on their life journeys is the most rewarding joy filled experience I have ever had.
In addition to my private practice, both on line and in person, I am blessed to work as a reader and spiritual counselor at A Time for Karma, a magical metaphysical store on Long Island, NY
I'm very touched by all the wonderful letters I've been receiving. Here are some of them…. Click here
---
On this website, you will find a wide diversity of tools for growth, empowerment and healing on all levels. Once a month I will update the Moon Phases and Horoscopes page, which will take a look at the upcoming astrological 'weather' forecast. I will add reviews of my favorite tarot decks, books and software.
I wish you an abundance of light and love as you create your life path.
---
NEWS:
You can now follow me on twitter... Click here
2-6-10 - As I sit here on a snowy day in February, I have an image in my heart of a sunny morning on a magical beach and I smile.
I am back now from an amazing metaphysical class in Boston and I'm excited to be resuming my healing, teaching and reading schedule. I've been noticing that as I've been using some new approaches, my healing clients have been experiencing much faster and deeper results and all my students who are in my psychic development classes are progressing very quickly and having some profound insights and very positive psychic experiences. I feel so blessed to be the facilitator for my amazing clients!
I still have spaces available for students who are interested in psychic development, as well as availability for new healing clients. I am continuing to offer psychic readings, astrology, tarot and mediumship sessions at Instant Karma in Rockville Centre, NY. Phone sessions are available for readings and healings as well. Please call me at (516) 379-5550 for more information.
Whatever the weather, may the sun continue to shine in your world.
12-27-09 - I hope everyone had a very merry Christmas. Lots of interesting astrological events and hence world events happening this week. Please check out, The Dec 09 Lunar eclipse article I just wrote before you go out and party!
12-13-09 - Give yourself a gift! Take a break from your holiday shopping next Friday, Dec. 18, between 2 PM & 5PM and Saturday Dec. 19 between noon and 3PM at Instant Karma and get inspired with a mini psychic/ medium holiday reading with me. These special holiday readings are $20 for 15 minutes. Call me at 516-379-5550 to make an appointment or just drop by. I look forward to seeing you then.
I wish you lots of love & laughter this holiday season!
12-9-09 - Unique & Empowering Gift Idea!!
To help you find that perfect one of a kind gift for that special friend or loved one I am offering gift certificates for readings. With any gift certificate you purchase now until Christmas Day and receive $10 off a reading for yourself!!
12-6-09 - Welcome to the season of lights! Now we move towards the darkest time of the year and await the rebirth of the light. This is a good time to confront the darkness, see what lessons it has for us, shine our inner light into the heart of it, see the wisdom hidden there and integrate that knowledge to create even greater wholeness within ourselves. This will be especially appropriate as Mars turns retrograde on December 20, 2009 and Mercury turns retrograde on December 26, 2009. To find out how this will affect you personally, as well as your astrological and energetic forecast for 2010 call (516) 379-5550 to arrange an appointment.
I am finding this is very helpful for so many of my healing clients now, who are coming in feeling extremely depleted and leaving after their healing sessions refreshed, renewed and reenergized. I find I am working with many dedicated and courageous clients who are determined to make the changes that will bring joy and growth into their lives. Call (516) 379-5550 to experience the ability of energetic healing to transform your life at the start of this new decade.
Dreams DO come true!! A childhood dream came true for me last Sunday as I attended the publication celebration of Paumanok, a book celebrating Long Island photographers and poets. I often used to daydream as a young girl that one day I would create beautiful images that would be published in a fine art book. Using affirmations is a powerful way to manifest your dreams. The affirmations I use are, "I am an open channel for creative energy and I attract the perfect creative projects for me now". I was asked to submit my images of the natural beauty of Long Island three years ago by the author. I was delighted by the exquisite book that resulted. Thank you, Kathy!! Check it out on Amazon, "Paumanok: Poems and Pictures of Long Island", Compiled and Edited by Kathaleen Donnelly
May you experience a magical holiday season that fulfills all your dreams!!
6-28-09 - As we welcome in a very wet start to summer, I look into my heart and discover the perfect sun drenched summer day there, complete with huge trees shading a flower filled path that looks out over a peaceful pond where a pair of swans glide by. As I meditate on that scene in my meditation room, I find that in fact, the clouds have parted and the sun is shining through. Intention, visualization and meditation are incredibly powerful tools!
In May, I was blessed to have the opportunity to travel to learn the next level of the healing tradition I have been studying for many years now. It is an incredible advance over how I had been practicing- truly a paradigm shift, which had by itself produced remarkable results. After my first initiation in this extraordinary healing modality, I woke up someone who had been in a comma for several days in a hospital totally hooked up to all of ICU machinery. I have facilitated many other amazing healings since then. Clients are telling me since I have returned, that that they really feel the difference. I am noticing that whether their situation requires physical, emotional or mental healing, they are progressing much faster. Please call at (516) 379-5550 for more information. I am also available for long distance healings.
May your summer be filled with sunshine and joy!
1-2-09 - Happy New Year! I hope you are enjoying the holiday. As an astrologer, I know that 2009 will be a very exciting and tumultuous year. My current favorite affirmation as we move through this energy is, Peace fills my heart and life sings through me in radiant ecstasy.
Sunday, Jan. 10, 2009, I will be making my monthly appearance on James Janchik's radio show, FEET TO THE FIRE. Tune in for a lively and informative discussion.
I am very excited to be attending the wedding of one of my Reiki students tomorrow. I have had the privilege of knowing both this wonderful bride and her mother for ten years now. It is wonderful to witness them grow, evolve and manifest their dreams in many different areas of their lives.
Congratulations!!!
I wish you many happy new beginnings and I look forward to seeing you when I resume my healing and reading practice on Tuesday, Jan. 6, 2009. I may be reached at (516) 379-5550.
9-26-08 - Divine Love envelopes my heart and life sings through me in radiant ecstasy. This has become my new favorite affirmation. It was especially appropriate for me as I manifested a wonderful fun filled summer. I am continuing to use it now as we transition into fall. Affirmation is one of the most powerful tools we have to manifest our hopes and dreams. Please try this one and see how it works for you! Contact me at (516) 379- 5550 if you would like to learn how to use affirmations to change your life.
I am very excited to be selling tickets to the Children's Cancer Society fundraiser at Mulchay's Pub on Wednesday, Oct 1, 2008 starting at 6:00 PM. The tickets are $20 and may be purchased from me or bought at the door. We went last year and had a great time dancing to the well known Long Island band, The Mystic who will also be performing this year. So I hope you can come to support this very worthy cause and enjoy a great fun filled night!
I am continuing to read at magical Instant Karma, on Friday afternoons and all day Saturday. I am delighted that several of my healing clients are progressing so well on their healing journeys. I am even happier that some of them have decided to learn Reiki from me so that they may do energy healing sessions on themselves, greatly assisting their healing on so many different levels.
Happy Fall!!!
---
CONTACT INFO:
E-MAIL: karmickat@aol.com
PHONE: (516) 379-5550